Heatwave condition in Delhi: After reeling under scorching heat,  Delhiites got some sort of relief as rain along with thunderstorms, and strong dusty winds swept parts of the national capital and a few other places in northern India on Thursday.  For the past few days, several regions of Delhi and the northern parts of India were battered by an intense heat wave, as the mercury soared to a scorching 46 degrees Celsius in certain areas.
As per the India Meteorological Department (IMD) similar weather conditions are expected in the next two to three days and no heatwave is predicted until May 30. According to the Regional Meteorological Centre, Delhi is likely to witness a partly cloudy sky with very light rain and thunderstorms in one or two places. The maximum and minimum temperatures are expected to hover at 36 degrees Celsius and 21 degrees Celsius, respectively.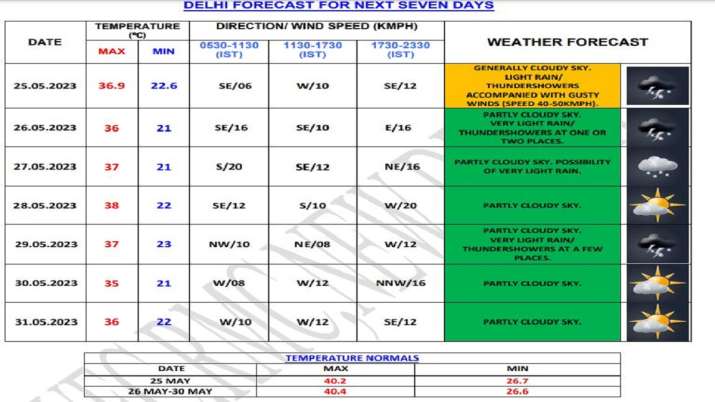 Under the influence of a western disturbance active over the western Himalayan region, intermittent rains are predicted over northwest India, including the national capital and its surrounding areas, over the next two to three days, according to the IMD.
Delhi recorded maximum temperatures above 45 degrees Celsius
A heatwave scorched parts of Delhi on Monday and Tuesday, with many weather stations recording maximum temperatures above 45 degrees Celsius. The heatwave pushed the peak power demand in Delhi to 6,916 MW on Tuesday, the highest so far this season. The city had recorded a peak power demand of 7,695 MW last summer and it might reach 8,100 MW this year, they said.
The threshold for a heatwave is met when the maximum temperature of a station reaches at least 40 degrees Celsius in the plains, 37 degrees Celsius in the coastal areas, and 30 degrees Celsius in the hilly regions, and the departure from normal is at least 4.5 degrees.
A heatwave is declared when the highest temperature of a location hits 40 degrees Celsius in plain areas, 37 degrees Celsius in coastal areas, and 30 degrees Celsius in hilly regions, with a minimum 4. 5-degree difference from the average temperature.