Ganga Vilas cruise: Prime Minister Narendra Modi will flag off the world's longest river cruise MV Ganga Vilas between Varanasi-Dibrugarh on January 13 (Friday). Besides, prime minister Modi will also inaugurate the 'Tent City' at Varanasi and lay the foundation stones for several other inland waterways projects worth more than Rs 1,000 crore via videoconferencing.
KNOW more about 'MV Ganga Vilas':
MV Ganga Vilas will begin its journey from Varanasi in Uttar Pradesh and travel around 3,200 km in 51 days to reach Dibrugarh in Assam via Bangladesh, sailing across 27 river systems in India and Bangladesh.

MV Ganga Vilas has three decks, 18 suites on board with a capacity of 36 tourists, with all the luxury amenities. The maiden voyage has 32 tourists from Switzerland signing up for the entire length of the journey.

The MV Ganga Vilas cruise is curated to bring out the best of the country to be showcased to the world.

The 51 days cruise is planned with visits to 50 tourist spots including World Heritage Sites, National Parks, River Ghats, and major cities like Patna in Bihar, Sahibganj in Jharkhand, Kolkata in West Bengal, Dhaka in Bangladesh, and Guwahati in Assam.

The journey will give the tourists an opportunity to embark upon an experiential voyage and indulge in the art, culture, history, and spirituality of India and Bangladesh.

In line with PM Modi's endeavor to boost river cruise tourism, the huge untapped potential of a river cruise will get unlocked with the launch of this service and it will herald a new age of river cruise tourism for India.
FEATURES of 'Tent City' at Varanasi:
Tent City has been conceptualized on the banks of the River Ganga to tap the potential of tourism in the region. The project has been developed opposite to city ghats which will provide accommodation facilities and cater to the increased tourist influx in Varanasi, especially since the inauguration of Kashi Vishwanath Dham. It has been developed by Varanasi Development Authority.
The tourists will reach the Tent City by boats from different Ghats situated in the vicinity. The tent city will be operational from October to June every year and will be dismantled for three months due to rise in river water level in the rainy season.
On the sandy banks of the Ganga in Varanasi, over 200 tents offer tourists a panoramic view of the famed ghats of the holy city on the other side of the river along with live classical music, 'aarti' in the evening and yoga sessions.
The 'Tent City', to be inaugurated virtually by Prime Minister Narendra Modi on Friday, has been developed on the lines of similar setups in Gujarat's Kutch and Rajasthan. Three clusters of 10 hectares each comprise the Tent City and are expected to give a fillip to the city's tourism potential, said Kaushal Raj Sharma, the divisional commissioner of Varanasi.
Vice Chairman of Varanasi Development Authority (VDA) Abhishek Goyal said the Tent City will be a confluence of religion, spirituality and culture.
"Guests at the Tent City will experience the sunrise, live music events in the morning, yoga session by the river as well as boat tours. Special care has been taken for the comfort, convenience and safety of all tourists," he said. Goyal said the three clusters of tents include villas of 900 sq ft each, super deluxe accommodation of 480 to 580 sq ft each and deluxe accommodation of 250 to 400 sq ft each.
The tent city is complete with Swiss Cottages, a reception area, a gaming zone, restaurants, dining areas, conference venues, spa and yoga centres, a library and an art gallery. It will also offer water sports, and camel and horse riding on the sandy banks of the Ganga, he said.
Neeraj Upadhyay, the designer of the Tent City, said it has been given the shape of temple spires. The tents will give the feel of luxury and offer the facilities of a hotel, he said.
"An attempt has been made to project the image of Kashi in it. The atmosphere of the Tent City is such that it will tickle all five senses. The fragrance of sandalwood, rose and lavender can be smelled across the tent city while the famous Banarasi thandai, chaat and Banarasi paan will a treat for the taste buds," he said.
City Police Commissioner Mutha Ashok Jain said adequate security arrangements have been made for the Tent City. Two temporary police outposts have been set up there. Non-veg food items and liquor have been banned there, he added.
Inland Waterway projects:
Prime Minister will inaugurate Haldia Multi-Modal Terminal in West Bengal. Developed under Jal Marg Vikas Project, Haldia Multi-Modal Terminal has a cargo handling capacity of around over 3 Million Metric Tonne Per Annum (MMTPA) and the berths are designed to handle vessels up to around 3000 Deadweight tonnage (DWT). Further, he will also inaugurate four floating community jetties at Saidpur, Chochakpur, and Zamania in Ghazipur district, and at Kanspur in Ballia district in Uttar Pradesh. Besides, a foundation stone will be laid for the five Community Jetties at Digha, Nakta Diyara, Barh, Panapur in Patna district, and Hasanpur in Samastipur district in Bihar.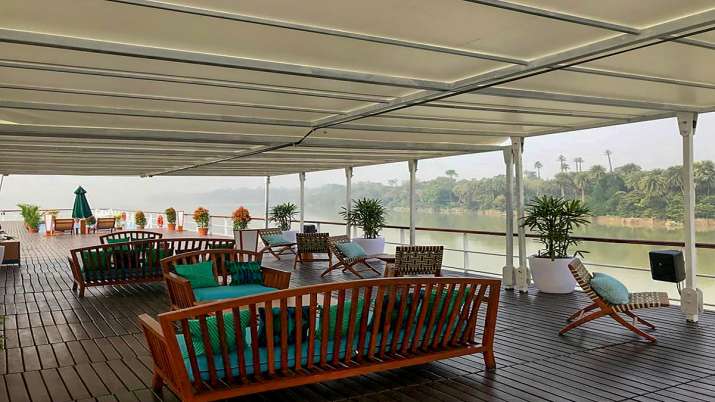 More than 60 community jetties are being constructed along river Ganga across the states of Uttar Pradesh, Bihar, Jharkhand, and West Bengal to boost economic activities and improve the livelihoods of local communities in the region. The community jetties would play a key role in improving the livelihoods of people by providing simple logistics solutions for small farmers, fishery units, unorganized farm-producing units, horticulturists, florists, and artisans focussing on economic activities in and around the hinterland of river Ganga.
A Maritime Skill Development Centre for North East at Guwahati will also be inaugurated. It will help honing the rich talent pool in the North Eastern region and will provide for better employment opportunities in the burgeoning logistics industry. In addition to these, Prime Minister will also lay the foundation stone for a ship repair facility and an elevated road at Pandu Terminal in Guwahati.
The Ship Repair facility at the Pandu Terminal will save a lot of valuable time as it takes more than a month for a ship to be transported to the Kolkata Repair facility and back. Moreover, it will also result in huge savings in terms of money as the transportation cost of the ship will also be saved. The dedicated road connecting the Pandu Terminal to NH 27 will enable 24-hour connectivity.
PM Modi on Varanasi Dibrugarh river cruise:
Prime Minister Narendra Modi on Wednesday said the 51-day river cruise, to be flagged off by him on January 13, is a unique opportunity to connect with the country's cultural roots and discover beautiful aspects of its diversity.
He was reacting to Ports, Shipping and Waterways Minister Sarbananda Sonowal's tweet about what has been described as the world's largest river cruise.
The minister said, "A trail through India's ancient heritage on some of the mightiest rivers of the world. Ganga Vilas, the world's longest river cruise, will be flagged-off by PM Narendra Modi ji Jan 13. Join this majestic journey."
32 foreign tourists to be part of MV Ganga Vilas cruise:
Thirty-two foreign tourists who will go on the world's longest river cruise, MV Ganga Vilas, on its maiden journey were accorded a warm welcome in Varanasi on Tuesday. Prime Minister Narendra Modi will flag off the cruise from Varanasi in Uttar Pradesh to Guwahati in Assam on January 13 via video conferencing.
A Varanasi district administration official said the foreign tourists were welcomed at the Ramnagar terminal with garlands and tunes of shehnai. They will visit various religious and historical places in Varanasi before setting out on the cruise. The journey covers around 3,200 km in 51 days to reach Dibrugarh in Assam via Bangladesh, traversing across 27 river systems in the two countries.
In a tweet, Uttar Pradesh Chief Minister Yogi Adityanath said, "Symbolising the speed, power and strength of 'New India', this river cruise will add new chapters of unity in 'Ek Bharat-Shreshtha Bharat." Special efforts have been made for extending all possible comforts to the tourists in the journey with minute details worked out to provide them once-in-a lifetime experience, officials said.
Giving details of the cruise, its director Raj Singh said this five-star moving hotel has 18 suites with the capacity of 36 tourists. Apart from this, it has accommodation for 40 crew members. The cruise has also been fitted with facilities such as spa, salon and gym.
To enjoy this luxury, a tourist will have to pay a fare of Rs 25,000 to Rs 50,000 a day. The total cost for the 51-day journey will come to around Rs 20 lakh for each passenger, Singh said. The cruise is equipped with a pollution-free system and noise control technology, Singh said.
There is an STP plant on this cruise so that no sewage flows into the Ganges as well as a filtration plant which purifies the Ganga water for bathing and other purposes, he said. On January 13, Prime Minister Modi will also inaugurate a 'Tent City' on the banks of the Ganga river in Varanasi. The initiatives drew criticism from Samajwadi Party president Akhliesh Yadav.
In a tweet in Hindi with a photograph of the cruise, Yadav said, "Now will the BJP take away the jobs of the sailors as well? BJP's policy of earning money by making religious places tourist sites is condemnable. People from all over the world come to experience the spiritual splendour of Kashi, not for luxury.BJP will no longer be able to cover the darkness of real issues with external glare."
According to a statement from Uttar Pradesh Tourism Minister Jaiveer Singh issued in Lucknow, the cruise will cover 50 tourist destinations including world heritage sites, national parks, river ghats and major cities like Patna in Bihar, Shahiganj in Jharkhand, Kolkata in West Bengal, Dhaka in Bangladesh and Guwahati in Assam.
As many as 36 tourists from three countries, including Switzerland and Germany, will be seated in the cruise, he said. Terming the river cruise a new chapter of tourism in India, he said that in future, other rivers of Uttar Pradesh will be connected.
(With agencies inputs)
ALSO READ: Ganga Vilas luxury cruise reaches Varanasi; set to cover 5 states, 50 tourist spots in 51 days
ALSO READ: MV Ganga Vilas: All you need to know about the luxury cruise that PM Modi will inaugurate on Jan 13