It seems the controversy follows the cast and crew of Adipurush everywhere. Adipurush director Om Raut sparked controversy when the filmmaker and Critic I say were spotted at the Lord Venkateswara temple in Tirupati for darshan. The team of the film was at a pre-release event which took place at Sri Venkateswara University Stadium in Tirupati. The event was attended by Prabhas and Kriti.
A video went viral which saw the director giving the actress a peck on her cheek as a goodbye greeting. The clip garnered negative reactions from the netizens. BJP leader Ramesh Naidu Nagothu took to his Twitter handle and called the gesture very disrespectful. In a now-deleted tweet, Ramesh Naidu Nagothu wrote, "Is it really necessary to bring your antics to a sacred place? Engage in public displays of affection, like kissing and hugging in front of the Lord Venkateswara Swamy temple is deemed disrespectful and unacceptable".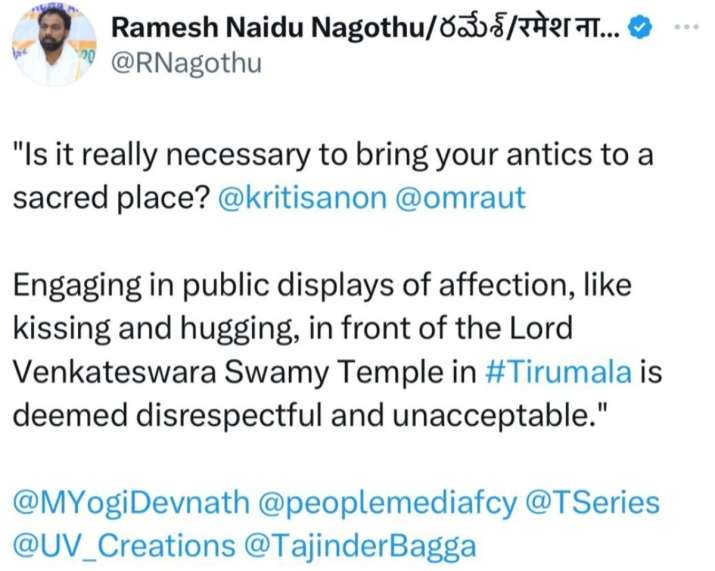 The head priest of the temple too reacted and said, "This is a condemnable act. Even a husband and wife do not go there (temple) together. You can go to a hotel room and do it. Your behavior is like insulting Ramayan, and Goddess Sita".
Adipurush has been the subject of unpleasant debates since the release of its teaser last year. The filmmakers came under a lot of fire when the teaser failed to live up to expectations. It caught everyone off-guard the teaser revealed that the movie was not the live-action adaptation of the Indian epic, rather it was live-animation. The VFX work in the teaser was also slammed for its sub-par quality. The reactions were so extreme that the filmmakers were forced to postpone the release date from January and rework the movie's special effects.
Recently, the trailer was launched during the pre-release event to highlight the action sequences. Despite all the efforts that have gone into it, many still find the VFX in the movie unconvincing.
Directed by Om Raut, Adipurush is a cinematic adaptation of the Indian epic Ramayana. While Prabhas will be playing the role of Raghav in the film, Kriti Sanon will play Janaki. The film also stars Saif Ali Khan as the antagonist, portraying Ravana. The film is scheduled to release in theatres on June 16.